Get in on the FUN with Canvas Connections 
We're happy to announce that we'll be holding this year's Summer Art Camp at Scrolls "The Sweet Room" in Morton.
You'll experience lots of creative fun while developing various art skills.  Each camp will have varied mediums.  There will be acrylic painting, watercolor painting, wood, clay and ceramic projects.   Sign up for one, two or all three camps.  No experience necessary - we walk you through it. For ages 5 to 15.  Tell all your friends!!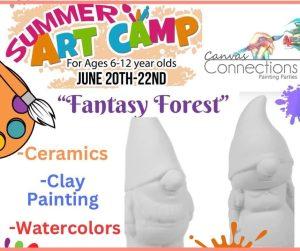 We'll have one uniquely themed 3-day Art Camp per month happening this June, July and August.  Camp days will be held on Tuesday, Wednesday and Thursday of the designated weeks.  Painting begins at 1 pm and ends at 3pm-ish.  (OPTIONAL:  BYO (bring your own) sack lunch and drink so you can eat lunch with your friends at 12:30 before painting begins)
On the last day of each monthly session (Thursday at 3 p.m.) we'll have an "Art Show" for viewing everyone's masterpieces.
Cost is just $120 for each of the monthly sessions.  Class sizes are limited.
Here is this Summer's awesome schedule (scroll down to see some examples of projects):
"Fantasy Forest"      JUNE - 20, 21, 22
Register HERE
June's camp will feature ceramics, clay pottery painting and watercolor painting with gnomes, gnome mushroom homes and hobbit holes and more! Other projects included as time allows.
"Sand and Sea"        JULY - 11, 12, 13
Register HERE
July's camp will feature ceramics, watercolor painting and acrylic painting with Starfish, Jellyfish, Sea Turtles and Sandy Beaches. Other projects included as time allows.
"Gamers"                  AUGUST - 8, 9, 10
Register HERE
August's camp will feature wood painting, ceramic painting and acrylic painting with remotes and fun gamer signage for your room. Other projects included as time allows.
Scrolls is the home of Morton's only rolled ice cream!  So...after class or on "Art Show" dates, be sure
 to try some out - you won't be sorry.
Cost is $6.50 for rolled ice cream and $1 for bottles of water.  they also have soft serve vanilla, chocolate and swirl in cones and cups.  Toppings are just 25 cents each.