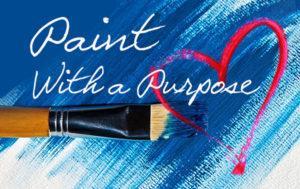 Do you have a cause you'd like to raise money for?  A painting party fundraiser is a GREAT way to do it!  We specialize in FUNdraising.
First, you fill out a fundraiser request form on this website.  We will try to contact you within 24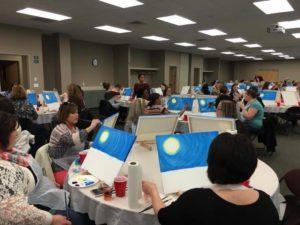 hours once we receive it.
We charge a fee based on a sliding scale and YOU set the price, per person, based on your fundraising goal.  It's simple.  Once you fill out a fundraiser request form, you'll be emailed a pdf file with all the details.  Then, you decide whether you'd like to proceed.
We offer FUNdraising events for 20 - 100 people.
Many people already have a facility to use but you could contact a VFW or American Legion, a local church, restaurant or bar to hold your fundraising event.  Many places of business will allow you to use their place free as long as you purchase "their" food and drink.   Important things to remember are "GOOD" lighting and adequate space.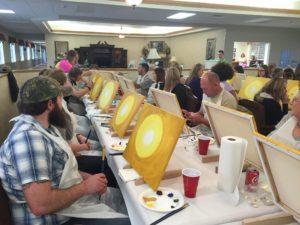 Fundraising events are provided with the ability for people to  register on this website, providing an avenue to use a credit card for payment.
At previous parties that have been held, fundraiser pricing has varied
between $30 and $50,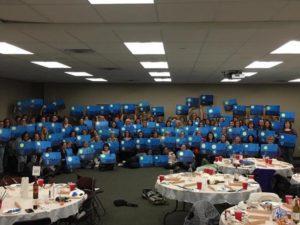 per person, depending on the audience and the goal amount of money they were trying to achieve.  One of our parties raised over $3,400 (painting party and sale of beverages).  Isn't that awesome?
We'll even design a custom flyer for you FREE of charge, upon request, if you book a Paint With Purpose Party with us. (we'll email you the pdf file).  This flyer can be used by you to hand out or post in order to promote your event.
We also create a facebook event/group page for you to invite your guests and keep them up to date on what's happening with your party!
We want your fundraising event to be a success!
Since we're not a "big-time," national paint party chain, and this is my dream hobby, there is limited availability on dates that can be scheduled. Fundraising party requests are accepted first come, first serve.  It's best to allow a minimum of four weeks lead-time before your party.  (For best promotion)
For large groups, it is helpful, but not required, if you are able to provide a microphone at your venue.  We do have a portable microphone we can use.